Looking for a great and hassle-free group experience ? Take advantage of our knowledge and carefully selected services in Italy and Europe.
With more than 10 years in the group business, we know that it deserves the highest level of quality and commitment.
Whether it's about school, business, cultural, sport, events or leisure groups …
we are able to craft a perfect customized experience.
Contact us for more information and for a tailor-made offer
We guarantee an answer in 24/48 hours (working days).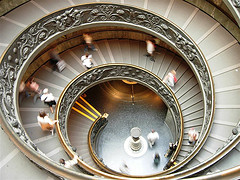 Vatican Museums, Spiral Staircase
(Photo by Xiquinho Silva)